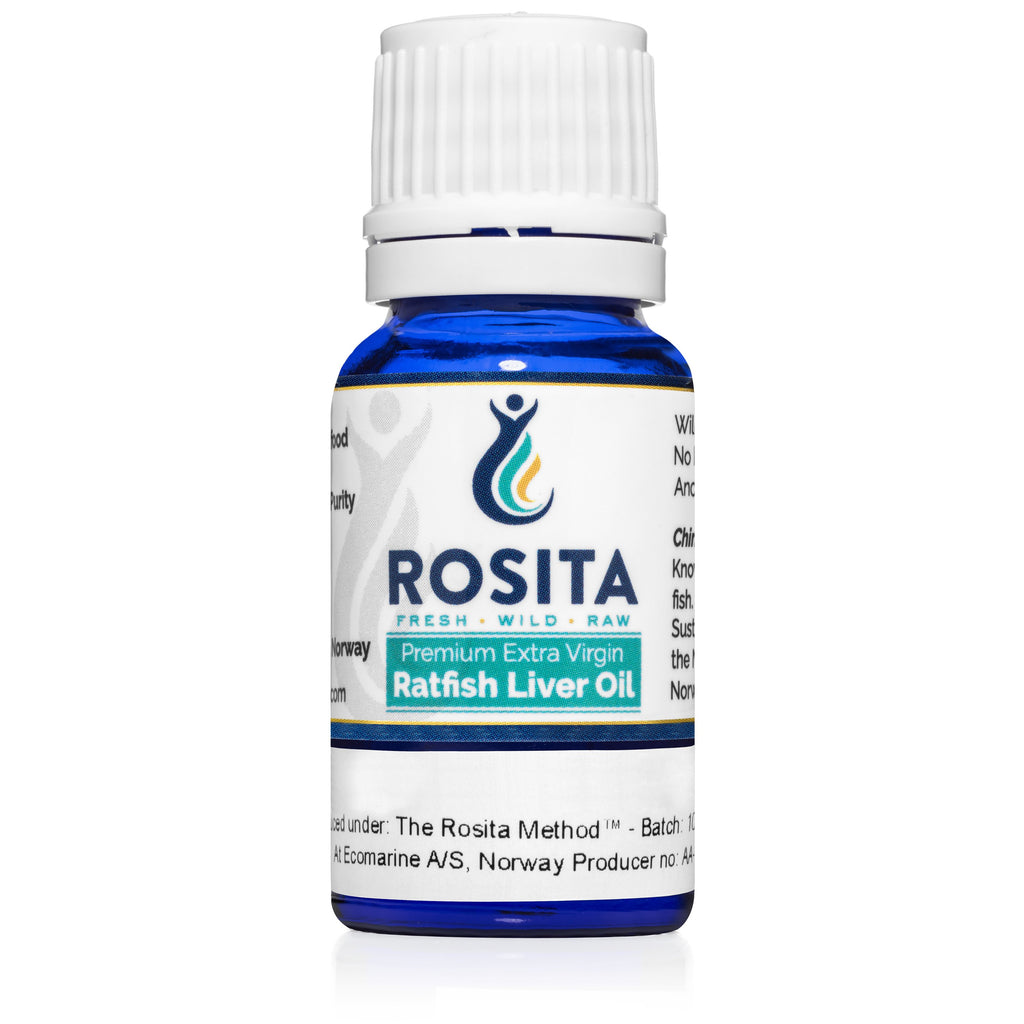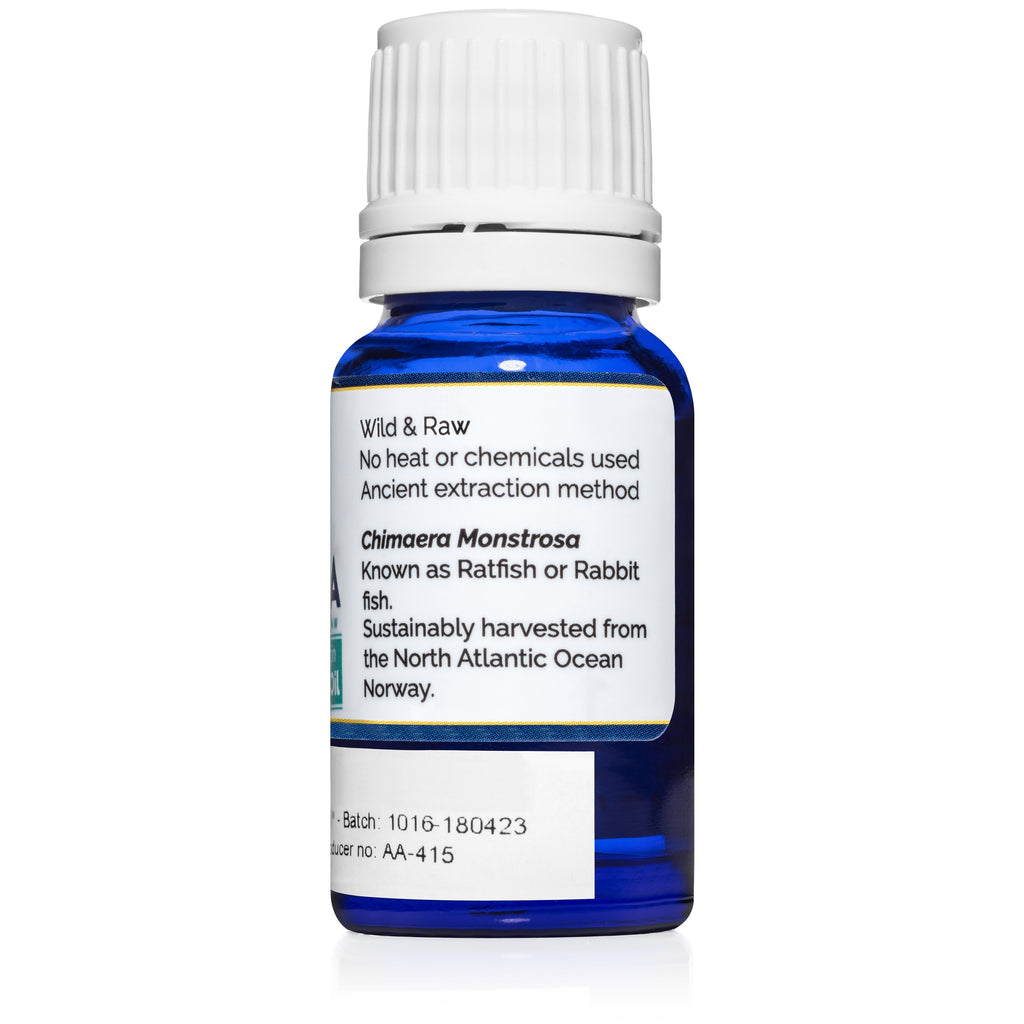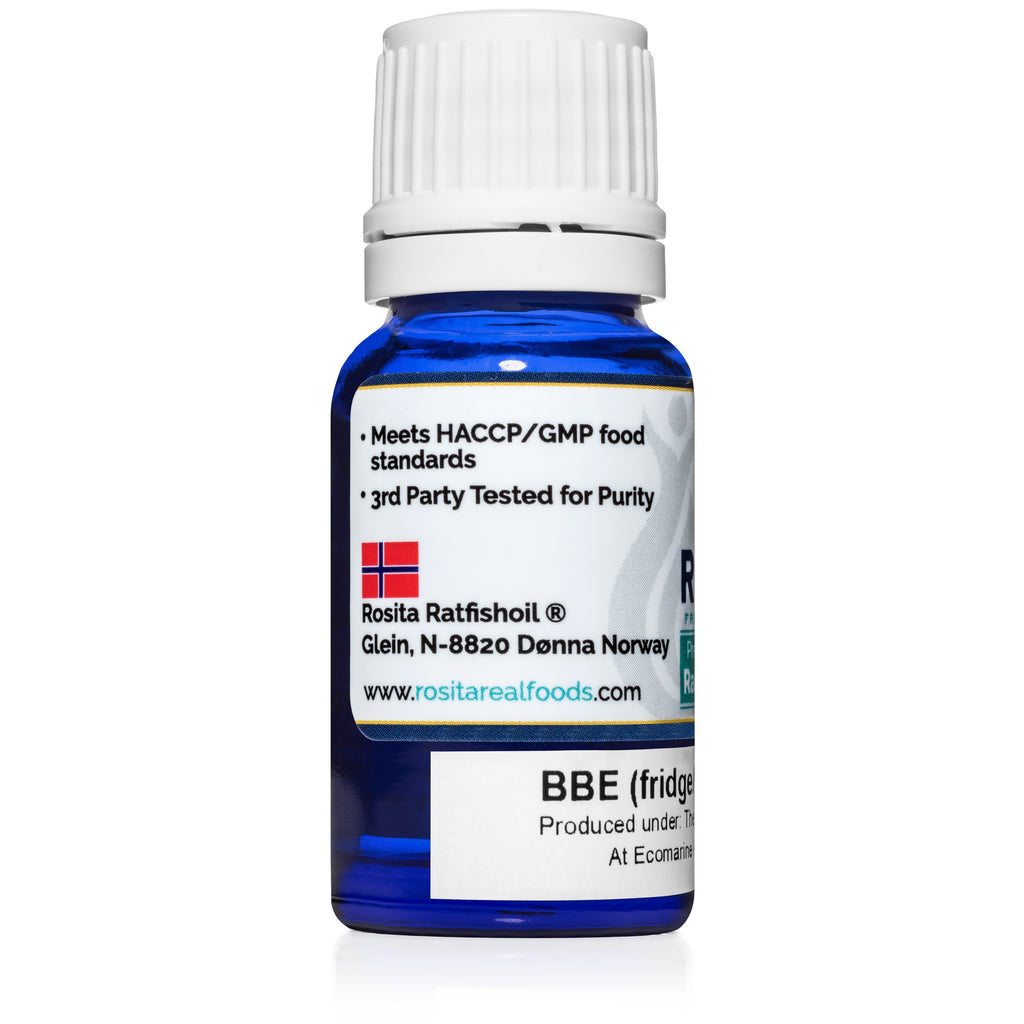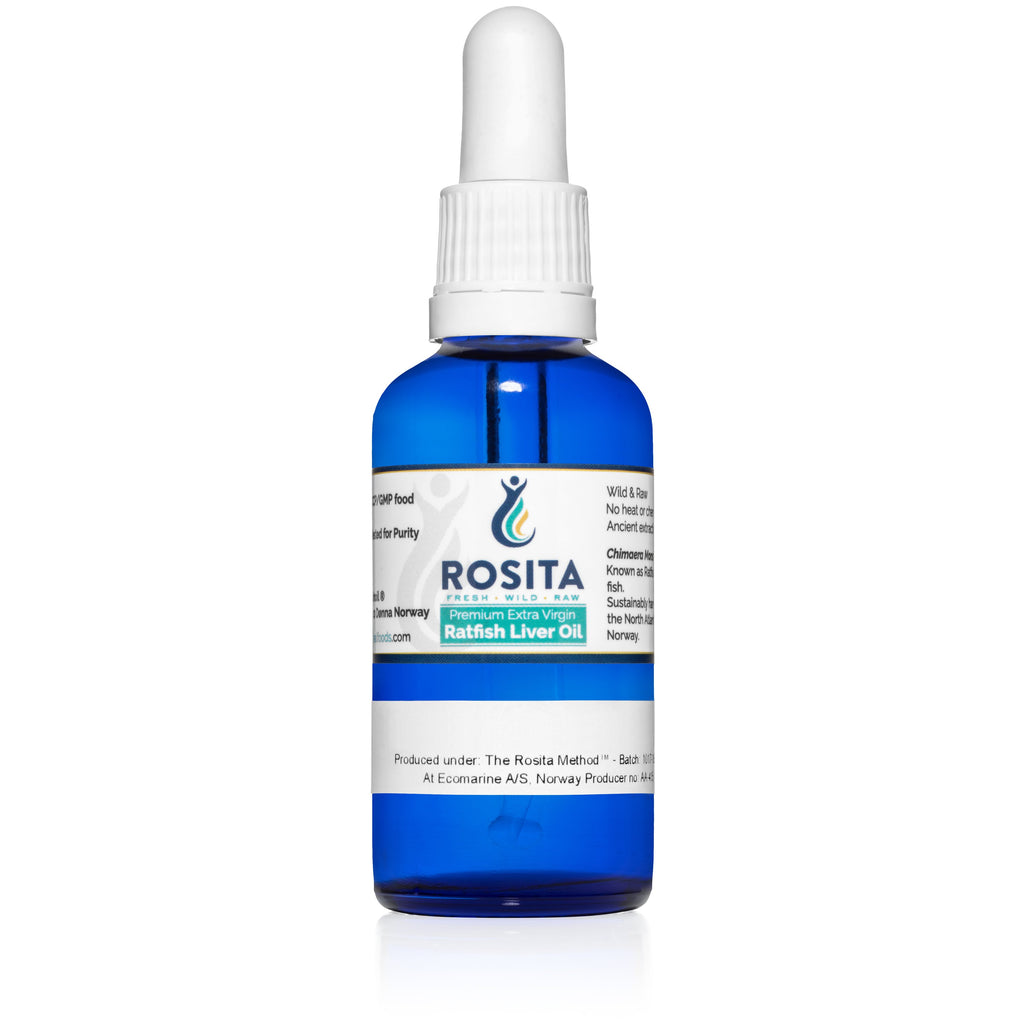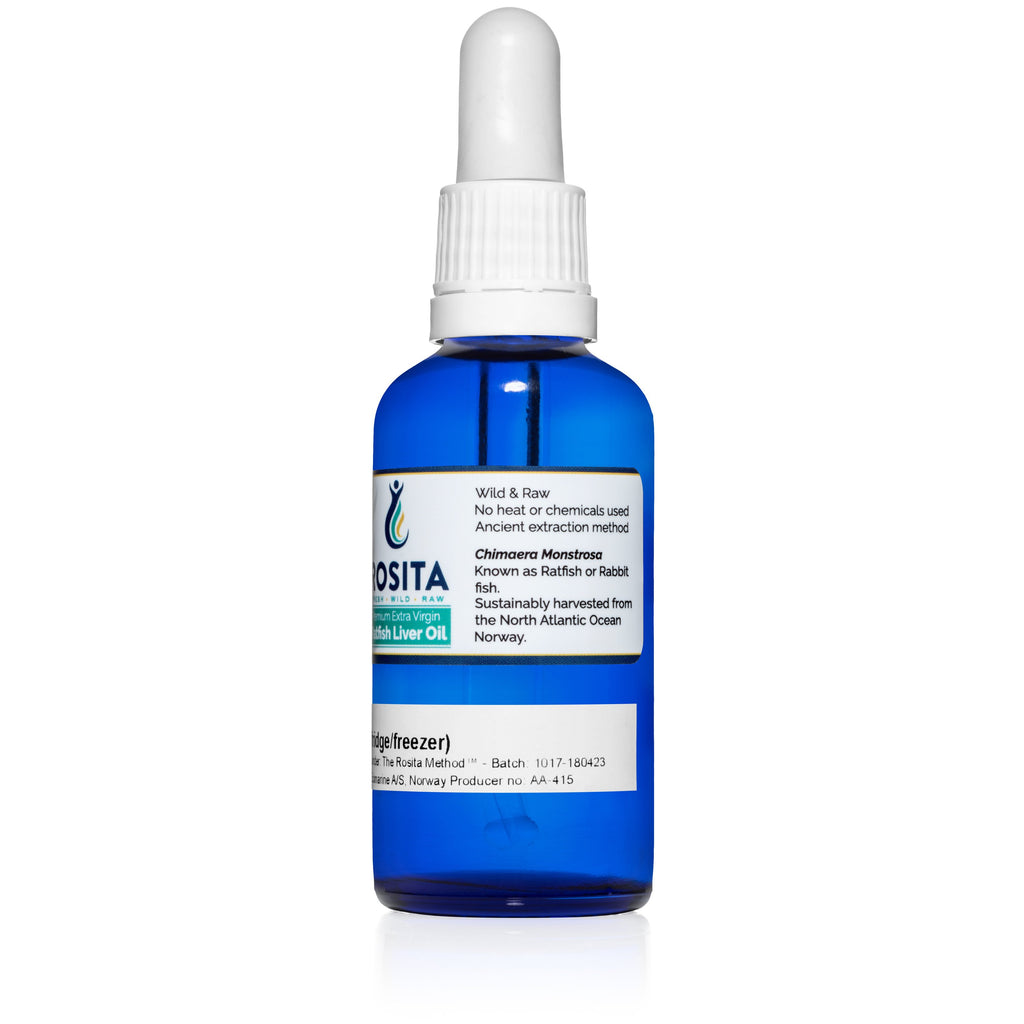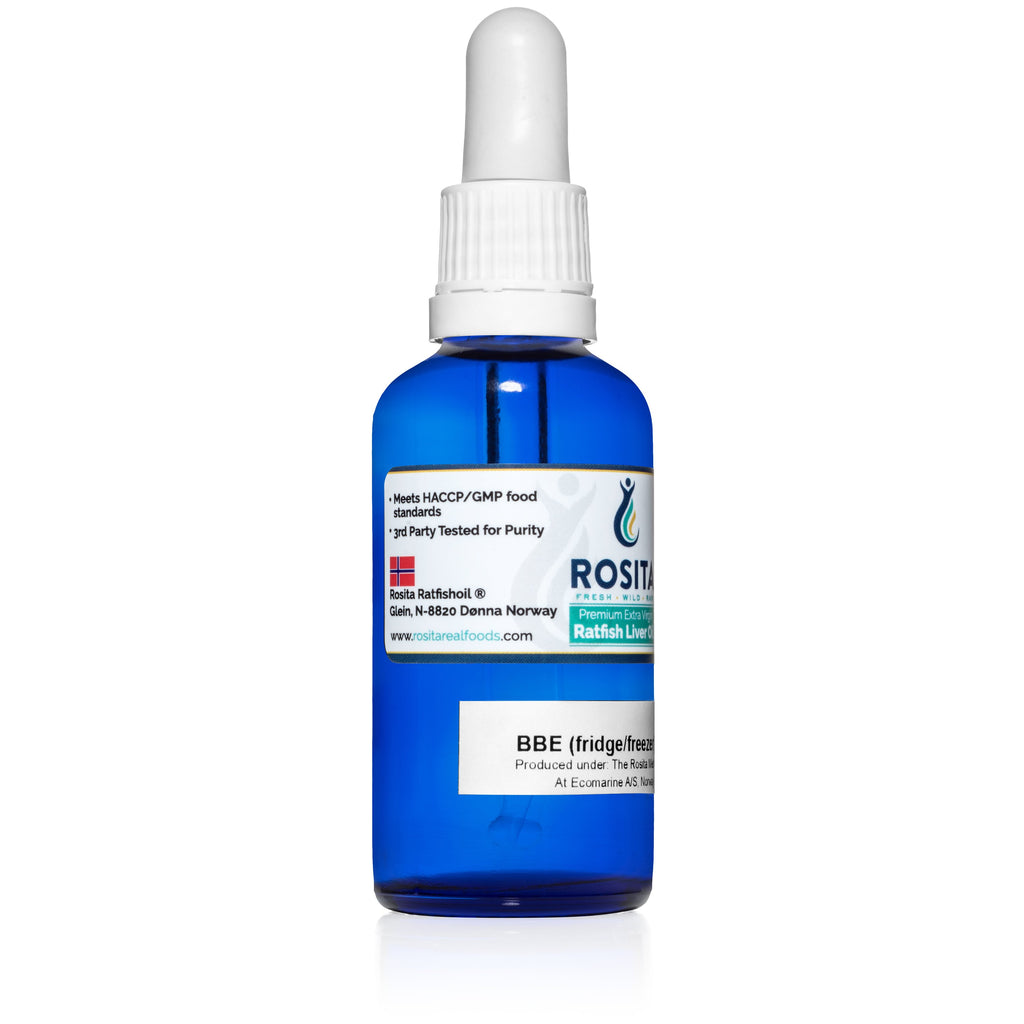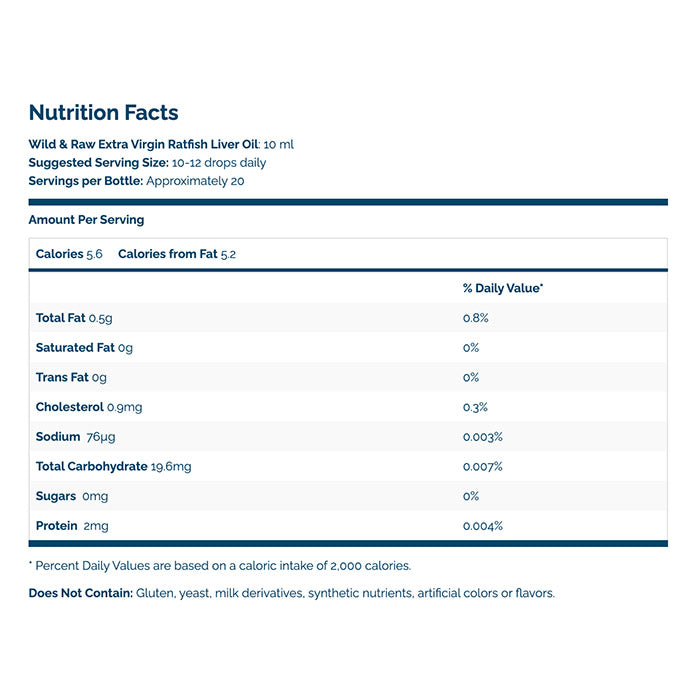 Rosita Real Foods®
Rosita Extra Virgin Ratfish Liver Oil
10 ml. and 50 ml.
---
Buy two or more & save 5%
Pure: Contains 100% naturally occurring nutrients: vitamins A, D and E, a full spectrum of omega fatty acids and alkylglycerols; no synthetic vitamins.
Sustainable: Authentic ratfish are caught on our own fishing boats in Norway.
Unprocessed & raw: Oil is quickly and naturally released — without heat, chemicals or mechanics.
Benefits: Supports the pineal gland, healthy cholesterol levels, heart health and skin; may ease inflammation and inhibit free radical damage.* Mild taste.
Ever heard of the ratfish? Many people are surprised to learn this beautiful, blue-eyed, spotted fish predates dinosaurs — and that Norwegian Vikings regarded its liver oil as the gold of the ocean!
Our family continues to create ratfish liver oil today, to share its rich, ancient nutrients with people who are passionate about real food supplements.
When you try a bottle, you'll experience:
100% ratfish liver oil, wild-caught from the pristine Norwegian fjords.
Unprocessed, raw and additive-free.
A concentration alkylglycerols (biologically active lipids) of up to 33%.
Only naturally occurring vitamin A and vitamin D.
A full spectrum of omega-3 fatty acids, including EPA and DHA.
Pure oil with unique lipid profile and naturally occurring antioxidants help maintain freshness.
So stable that nitrogen flushing is not needed.
Handcrafted in small batches.
A mild, buttery taste.
What is Ratfish Liver Oil?
We're the only company on the market making authentic fresh, wild-caught and raw ratfish liver oil.
If you're unfamiliar with this supplement, it's the real oil contained in the cells of fresh liver from the ratfish (Chimaera monstrosa). An ancient, whole food that is straw-colored and gentle in flavor and scent.
Rosita Extra Virgin Ratfish Oil is created using a rare, generations-old technique that naturally releases the oil from the hand-picked livers (using a gentle temperature shift). This can only be accomplished with healthy livers from freshly caught ratfish.
No heat, chemicals, steam, metals or mechanical pressure are ever used in the creation of your oil. You can read more about Rosita's heat-free and chemical-free patent to purify its oils and preserve their inherent nutrients, here.
This all means your ratfish oil maintains the same form and nutritional composition that nature gave it, without being altered in any way.
Who should consider adding ratfish liver oil to their supplement routine?
Rosita Ratfish Liver Oil appeals to a wide variety of health interests:
Real foodies searching for a rare and unique nutrient profile.
Those looking for a completely natural supplement that's high in alkylglycerols.*
Families with children on the spectrum (especially those with taste sensitivity to fish).*
Spiritual people who want mental clarity and to decalcify the pineal gland (third eye), which supports meditation, relaxation and rest.*
Anyone striving to improve and support their overall health, including the brain, and immune and circulatory systems.*
Latest ratfish liver oil testing results
Each batch of our ratfish liver oil is third-party tested in a microbiological laboratory and certified to meet strict European regulations for potency and purity.
View our Rosita Ratfish Liver Oil testing page for the latest results.
For more information, you can also see our related FAQs on testing.
Wild-caught ratfish liver oil
Rosita Ratfish Liver Oil contains a vibrant, naturally-occurring nutrient profile that includes:
Alkylglycerols (biologically active lipids): A concentration of up to 33%
Vitamin A: In the active, retinol form
Vitamin D3: The most bioavailable, cholecalciferol form*
A full spectrum of omega fats: Including omega-3 EPA and DHA, 4, 6, 7, 9, and 11
According to published scientific studies, these nutrients support the body in many ways, such as:
Potentially easing inflammation,
Supporting the pineal gland,
Supporting healthy cholesterol levels and the heart,
Supporting the skin, and
Inhibiting free radical damage.*
For more on these nutrients, health benefits and the research supporting them, click here.
Best taken with food, as needed.
Adults: Take 15 drops daily.
Children and sensitive individuals: Take 5 drops daily.
Low and slow: Rosita is premium, pure and potent. Therefore, it's critically important to start slowly, with a lower dosage than recommended. For example, a very small dose every other day, or even once a week, until you can determine how the supplement affects your body and what dosage feels right for you.
Store Rosita Ratfish Liver Oil in the refrigerator or freezer.
Shelf life for unopened bottles: 3 years from production date if stored in the fridge, 5 years if stored in the freezer.
Shelf life for opened bottles: Once opened, store Rosita Ratfish Liver Oil in the refrigerator and consume within 3 months. Replace cap after every use and return to the fridge to extend freshness.
Price & Dosage Calculator
Use our dosage calculator to determine how long your product will last based on your household size.
Customer Reviews
Total 5 star reviews: 231
Total 4 star reviews: 15
Total 3 star reviews: 6
Total 2 star reviews: 3
Total 1 star reviews: 5
95%
would recommend this product
Customer-uploaded media carousel. Press left and right arrows to navigate. Press space or enter to open more details.
Slide 1 selected
JR

Reviewing

Rosita Extra Virgin Ratfish Liver Oil

My only regret was not buying a bigger bottle

Fresh. Easy directions. No fishy burps. Even my kids love the taste. Environmental friendly and great for our health. Going to use it to reduce inflammation in my back.

RU

Rosita USA

14 seconds ago

We truly appreciate your support and trust in Rosita! Your 5-star review brightens our day! We are pleased to hear that the Ratfish Oil is working great for the entire family. Thank you for sharing your experience today. Have an awesome day!

Reviewing

Rosita Extra Virgin Ratfish Liver Oil

10 ml.

Worth every penny.

I don't know if is the fish oil but I have noticed that I have more energy and clarity of mind.

RU

Rosita USA

3 days ago

Thank you for the 5-star rating! We are thrilled to learn that you are reaping the benefits of our Ratfish Liver Oil. Thank you for choosing Rosita! Have an awesome day!

Reviewing

Rosita Extra Virgin Ratfish Liver Oil

50 ml.

Great product!

Been taking it for months, and I love it!

RU

Rosita USA

2 weeks ago

Thanks, Sarah! We're thrilled that you were satisfied with our ratfish oil! Your feedback is very much appreciated. Thank you for trusting Rosita!

Reviewing

Rosita Extra Virgin Ratfish Liver Oil

RU

Rosita USA

3 weeks ago

We're so grateful that you took the time to leave us a 5-star review! We are happy to hear that you love our product! Have a great day!

JD

Reviewing

Rosita Extra Virgin Ratfish Liver Oil

My cats silky coat and skin issues improved

My vet prescribed rat fish oil a few years ago to stabilizer my cat Charlie's auto-immune disease and skin blistering and itching. Charlie's skin has stabilized because of the oil, and his coat is silky soft and shiny. I notice my vet prescribes this oil for many of his pet patients. Thank you for this naturally therapeutic and healing oil. With gratitude, Jennifer

RU

Rosita USA

1 month ago

We are thrilled to hear from you and appreciate your 5-star rating! We are delighted to hear that our cod liver oil has benefited your pet's skin problem. Thank you for believing in Rosita!
Reviews Loaded
Reviews Added