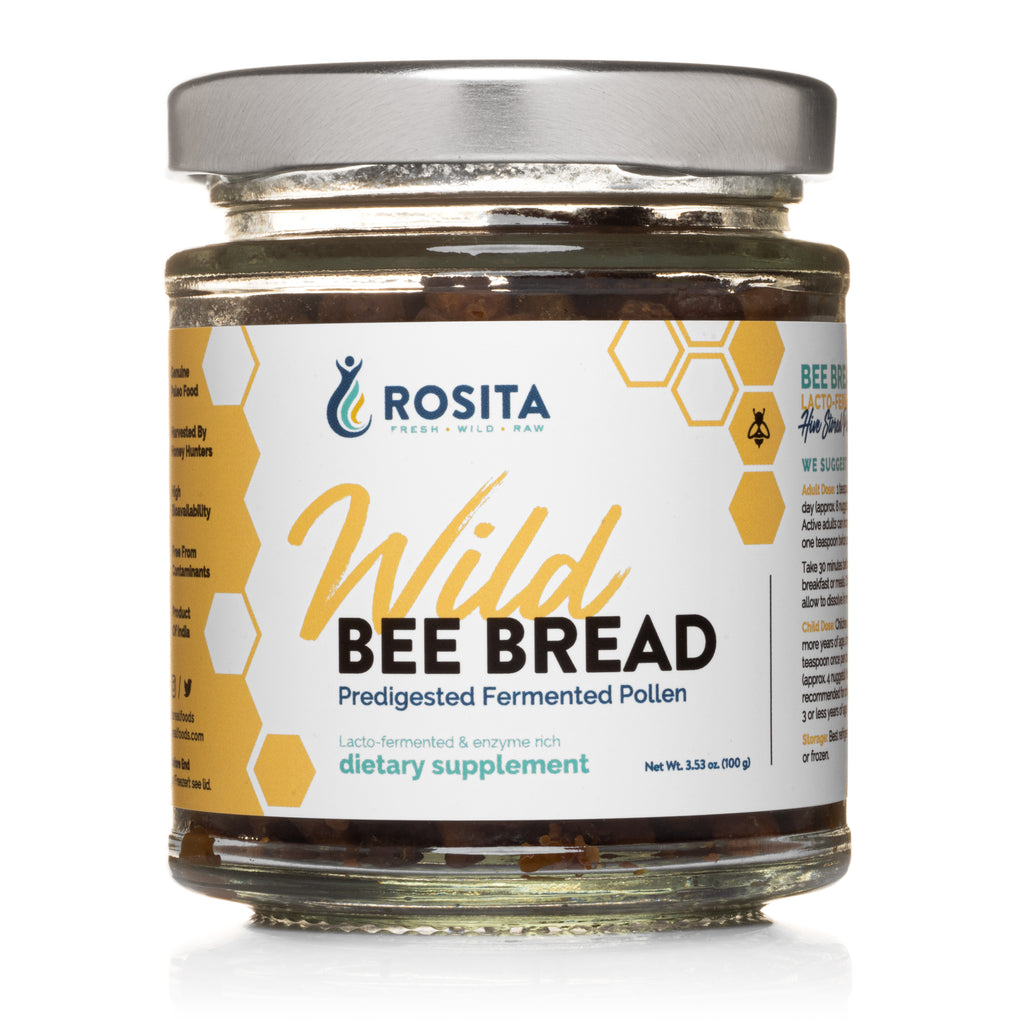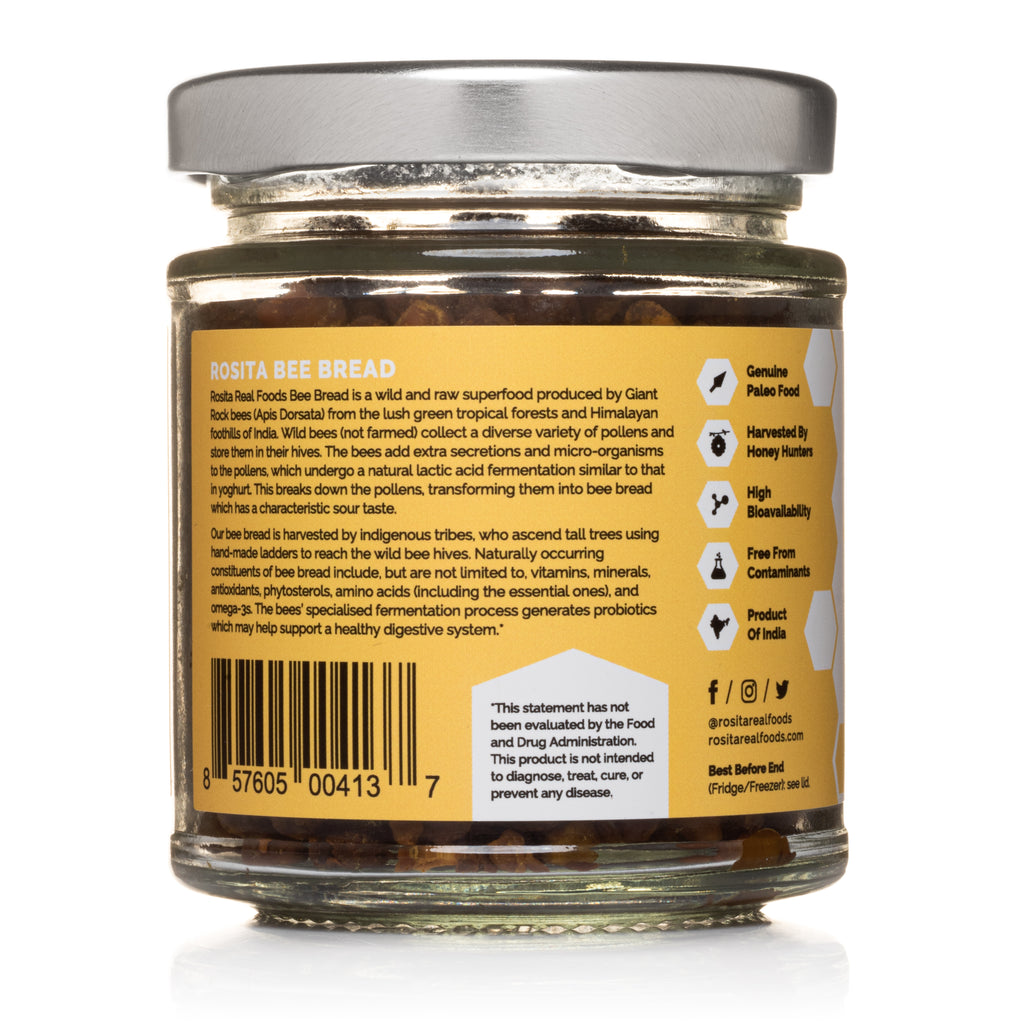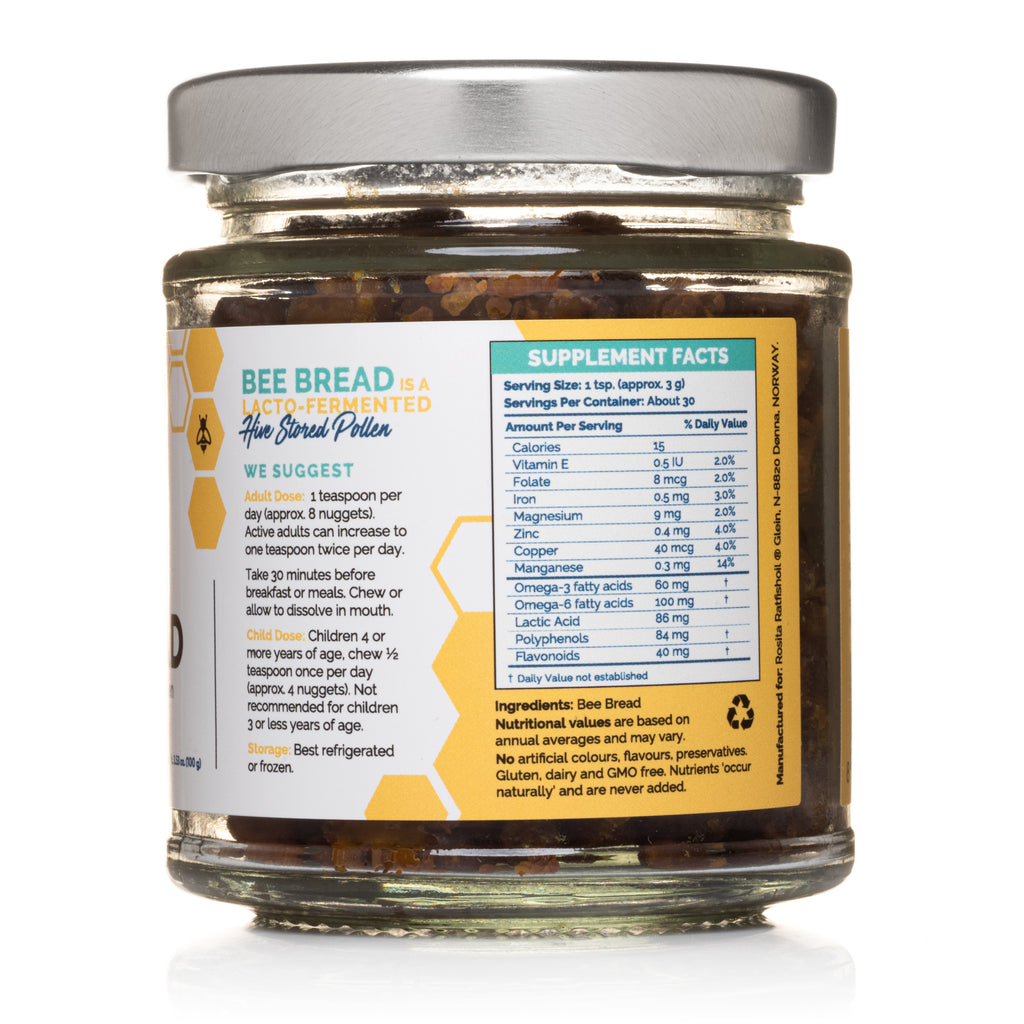 Rosita Real Foods®
Wild Bee Bread
100 g.
---
Buy two or more & save 5%
Harvested by honey hunters in India
Naturally-occurring vitamins, minerals, probiotics, antioxidants, amino acids, enzymes & omega fatty acids
Free of additives, artificial colors, flavors & preservatives
High bioavailability/supports digestion & immunity Free of gluten, dairy and GMOs
Genuine Paleo food
Bee bread – Lacto-fermented and enzyme-rich dietary supplement
Rosita Bee Bread is lacto-fermented, hive-stored pollen that's rich in enzymes and natural nutrients, and supports digestion and the immune system, among myriad other health benefits.* This wild and raw superfood is made by giant rock bees (Apis dorsata) from the lush, green tropical forests and Himalayan foothills of India.
The Bee Bread is created in the hive through an entirely raw and natural fermentation process by the wild (not farmed) bees. They mix pollen, saliva and honeycomb nectar within cells and seal the cell with a drop of honey, signaling the start of the lactic fermentation process similar to that of yogurt. This breaks down pollen and enables the bees to add naturally occurring enzymes, transforming the pollen into bee bread.
The measures taken to harvest the bee bread are precious, ancient and sustainable.* Honey hunters bravely climb up tall trees using hand-made ladders to the wild beehives. Then, the bee bread is gently extracted from the honeycomb using a completely natural method that protects its rich nutrients. From there, it goes straight into the bottle, with absolutely no processing or additives.
Bee bread has a pleasant fruit-like aroma and slightly tangy taste, with citrus and fruit flavors. It dissolves easily in the mouth, or you can chew it before you enjoy your breakfast.
Naturally-occurring nutrients in bee bread include, but are not limited to:
Vitamins
Minerals
Antioxidants
Essential amino acids
Enzymes
Omega fatty acids
Carbohydrates
Organic acids
Prebiotics
Probiotics
Phytochemicals*
The bees' specialized fermentation process also generates probiotics, which may help support a healthy digestive system.*
For more information on the nutrient content, sustainable harvesting, benefits and testing of Rosita Bee Bread, visit our FAQs.
How it's made
Our Bee Bread is totally raw, and never heated or dried. It comes straight out of the hives and into the jars without any steps in between. We believe that bee bread should be as fresh as possible, as freshness ensures product integrity and biological efficacy.
Drying the bee bread is likely to impact its nutritional and therapeutic value and is strictly avoided.
And, there are absolutely no preservatives, additives, artificial ingredients, colorings, stabilizers, anti-caking agents or GMOs in Rosita wild Bee Bread. It's naturally gluten-free and Paleo friendly.
Wild bee bread versus domesticated bee bread
Rosita bee bread is derived from wild bee hives and wild bees that cannot be domesticated, and is free of human intervention. This means that the wax, honey and bee bread are free from medicinal residues often used to maintain domestic hives and prevent bee diseases.
Commercially-farmed bees are commonly treated with antibiotics, suffer stress, eat synthetic food instead of their own honey and bee bread, and are forced to fly in fields sprayed with pesticides. All this destroys the bees' healthy bacteria, which is their defense against disease. And therefore, the honey and bee bread from commercial bees are lacking in quality.*
Wild bees that nest high up in trees and cliffs don't suffer from any of these problems. On the contrary, their honey stomachs are full of friendly bacteria and the honey and bee bread they produce are of superior quality — teeming with friendly bacteria, antioxidants and phytochemicals.*
Other names
Bee bread has also been traditionally called "ambrosia' (food of the gods) and "perga." Since ancient times, bee bread has been used by various cultures for its nutritional and health-supporting properties.*
It involves a great deal of work to procure this extremely rare and nutritious food, which is likely one of man's earliest foods.
Try this incredible product and treat yourself to one of nature's true healthy gifts.
100% wild and raw, fresh bee bread from wild giant rock bees (Apis dorsata).
Nutrients occur naturally and are never added.
Bee bread is unprocessed with unique properties due to the unique bee species, giant rock bees (Apis dorsata) and its ayurvedic plant base from the forests. It's a genuine, rare and niche superfood!*
Ayurvedic plant base
The biochemical richness of bee bread varies upon the flora diversity of the region and the time of the pollen collection. Rosita Bee Bread is sourced from the world's most pristine areas, including the Himalayas. The wild bees forage on a variety of Ayurvedic wild naturally-growing therapeutic flora with health-supporting properties such as neem, sweet neem, jamun and many more!*
Health benefits, studies and ancient use
In many countries, bee bread and other bee-derived products are implemented in apitherapy (treatment using bee-derived products) to support health in various ways.*
A Russian study questioned 150 Russian centenarians in the Caucasus region about their diet, age and occupation and found that most worked as beekeepers and nearly all of them regularly consumed honey enriched with pollen.*

Scientific research suggests that due to its nutrient-rich profile, bee bread may act as an antioxidant, antimicrobial (antibacterial, antifungal, antiviral) and anti-inflammatory.*

Moreover, bee bread may support intestinal flora, the digestive and immune systems, liver and prostate health, urinary health, fertility and libido, triglyceride and cholesterol levels within normal ranges, cardiovascular health, concentration and memory, nervous and endocrine system function and healthy energy levels.*

It may also act as a mild detoxifying agent and ease mild allergies, like hay fever.*

Plus, bee bread may support the skin and is associated with increased longevity.*

According to the American Apitherapy Society, bee bread has been used by Olympic athletes to support their immune systems, boost performance and improve their crucial recovery time after performance.*

Early Egyptians and the ancient Chinese believed bee bread to be a rejuvenator and balm.* Even the ancient Vikings are said to have taken honeycomb and bee bread with them on their long voyages.*
Bee bread is also a naturally-gluten free food and is appropriate for Paleo diets and other dietary protocols that focus on ancestral eating.*
Bee bread versus bee pollen
Bee bread is characterized by a higher nutritional value than fresh pollen, and is more biologically active and digestible due to the high content of easily digestible sugars, fats, minerals and free amino acids.* And, due to the fermentation process, bee bread has an exceptional shelf life compared with dried or frozen pollen in which nutritional values are rapidly lost.
For more information on the nutrient content, sustainable harvesting, benefits and testing of Rosita Bee Bread, visit our FAQs.
Adults: 1 teaspoon per day (approximately 8 nuggets). Active adults can increase the dose to 1 teaspoon twice per day or as required.
Children and sensitive individuals: ½ teaspoon per day (approximately 4 nuggets).
Low and slow: Rosita is premium, pure and potent. Therefore, it's critically important to start slowly, with a lower dosage than recommended. For example, a very small dose every other day, or even once a week, until you can determine how the supplement affects your body and what dosage feels right for you.
How to take Rosita Bee Bread
Rosita Bee Bread may be consumed daily, preferably 30 minutes before breakfast or meals. It can be chewed or it can dissolve in the mouth.
When to avoid
Interestingly, while allergy to bee pollen is common, allergy to bee bread is rare.* However, Rosita Bee Bread is not recommended for people with a history of anaphylactic shocks or those allergic or hypersensitive to bee products and bee stings.*
Rosita Bee Bread is also not recommended for children under 1 year of age.
Rosita Bee Bread is extremely stable, as it's a naturally fermented, self-preserving food — which maintains integrity and freshness in normal temperature variations and during storage and shipping.
Rosita Bee Bread should be refrigerated or frozen upon receiving. Even if the jar has been opened, it may still be stored in the freezer with the lid tightly closed.
If refrigerated, consume within two years.
If frozen, consume within three years.
This product travels well for short periods of time, without being refrigerated or frozen, due to its stable nature.
Price & Dosage Calculator
Use our dosage calculator to determine how long your product will last based on your household size.
Customer Reviews
Total 5 star reviews: 19
Total 4 star reviews: 2
Total 3 star reviews: 0
Total 2 star reviews: 0
Total 1 star reviews: 1
95%
would recommend this product
Customer-uploaded media carousel. Press left and right arrows to navigate. Press space or enter to open more details.
Slide 1 selected
Funky taste but you get used to it

I thought it was a little too funky tasting at first, but I quickly got used to it and now I think it's quite tasty!

RU

Rosita USA

1 month ago

Thank you for choosing us and for the incredible 5-star rating. We are pleased to hear that you found our Cod Liver Oil to your liking. Thanks for sharing with us. Have a great day!

Best Bee Bread

Awesome product. Taste is unmatched. I can see and feel how this Bee Bread boost my health. Thank you Rosita's for this special and very rare super food.

RU

Rosita USA

2 weeks ago

Thank you for this outstanding review!! Our Bee Bread is packed with naturally occurring nutrients, Prebiotics, Probiotics, and Digestive Enzymes! We are so happy to hear you're enjoying it!

Yamaris C.

Verified Buyer

Easy way to add more probiotic food

I have really enjoy this bee bread. I add it to anything that I eat in the morning. It is so hard to stick with the dose of 5 because it tastes so good. I k ow how important it is to add more wild fermented food and this is an easy and tasty way to get them in. I wish they would sell a bigger version.

RU

Rosita USA

1 month ago

Thank you so much for this 5 star review!! We are so happy to hear you're enjoying our Wild Bee Bread with all the naturally occurring digestive enzymes, prebiotics, and probiotics. And it is super tasty! Thank you for sharing with us today!

Love it!

Only been taking it for about a week but I believe in this company and their products. I'm deficient in a lot of minerals, and nutrients (and all doctors say is take a multi vitamin or you're ok but they don't tell you a lot of the products out there are horrible and contain terrible ingredients and there are many, many synthetic vitamins out there). Dr. Berg's videos have helped me do my own research into what could be wrong with me....his videos led me to Rosita.

RU

Rosita USA

2 months ago

We really appreciate you leaving a 5-star rating. We are pleased to hear that your nutrient deficiency is being alleviated by our Wild Bee Bread. We appreciate you telling us about your experience! Thank you for trusting Rosita!

Michael L.

Verified Buyer

Love this product

Great taste ... obviously and acquired taste but I love it

RU

Rosita USA

2 months ago

Thanks for the awesome review! We are so happy to know that you are loving Wild Bee Bread! We appreciate you sharing this with us. Take care and have a wonderful day!
Reviews Loaded
Reviews Added