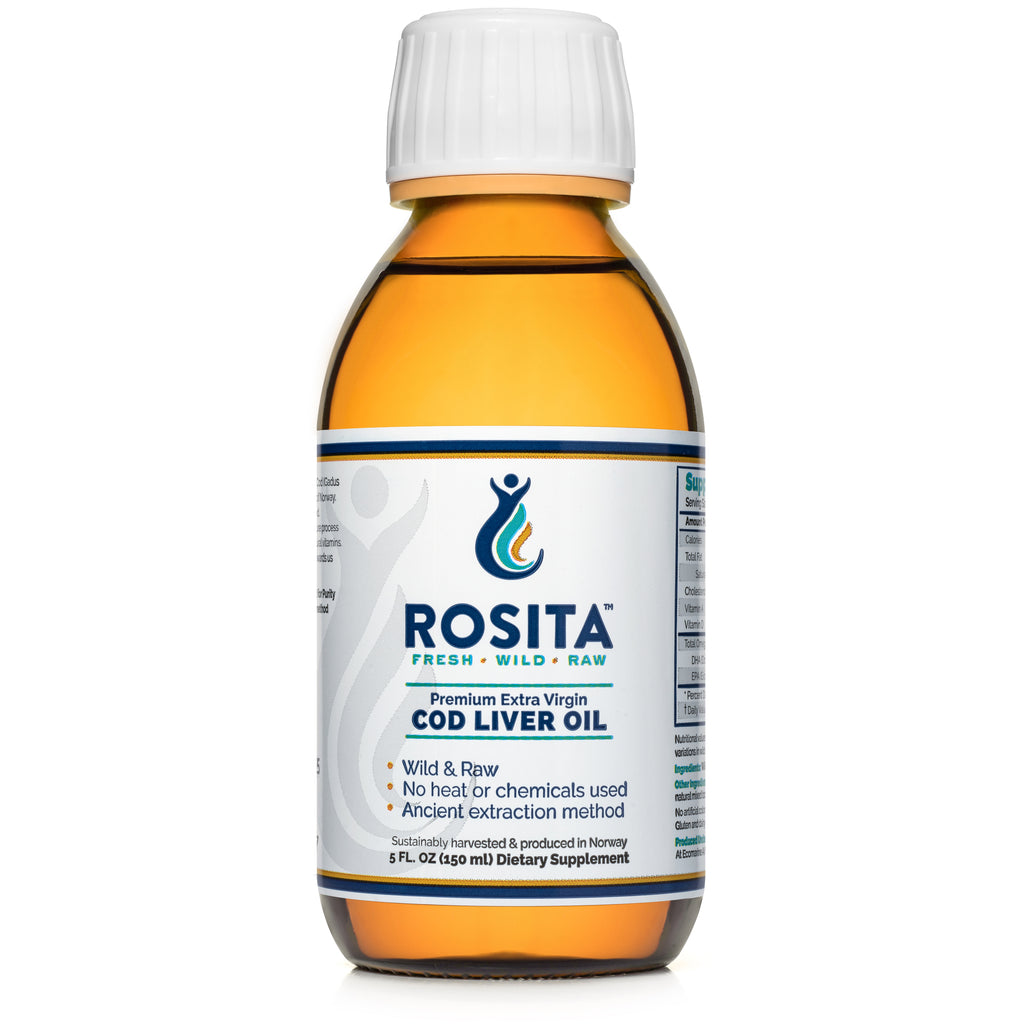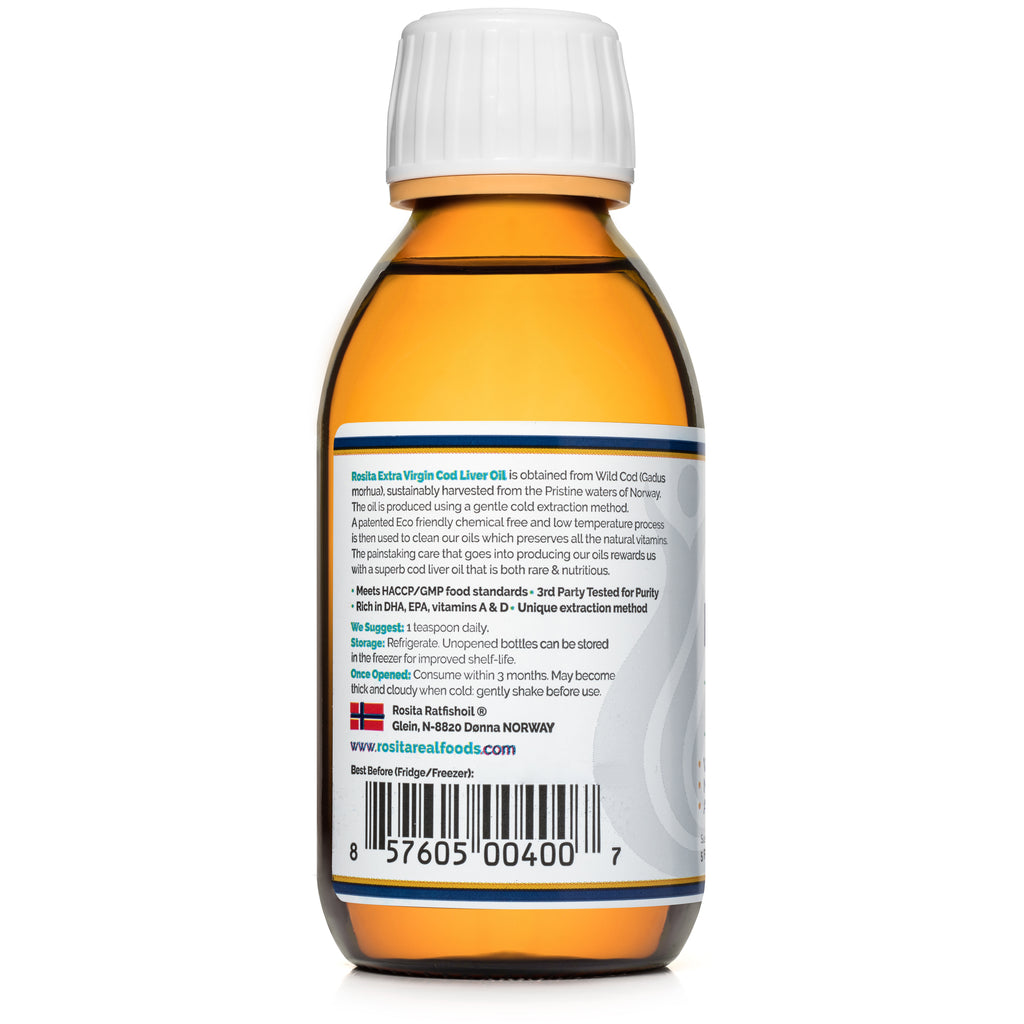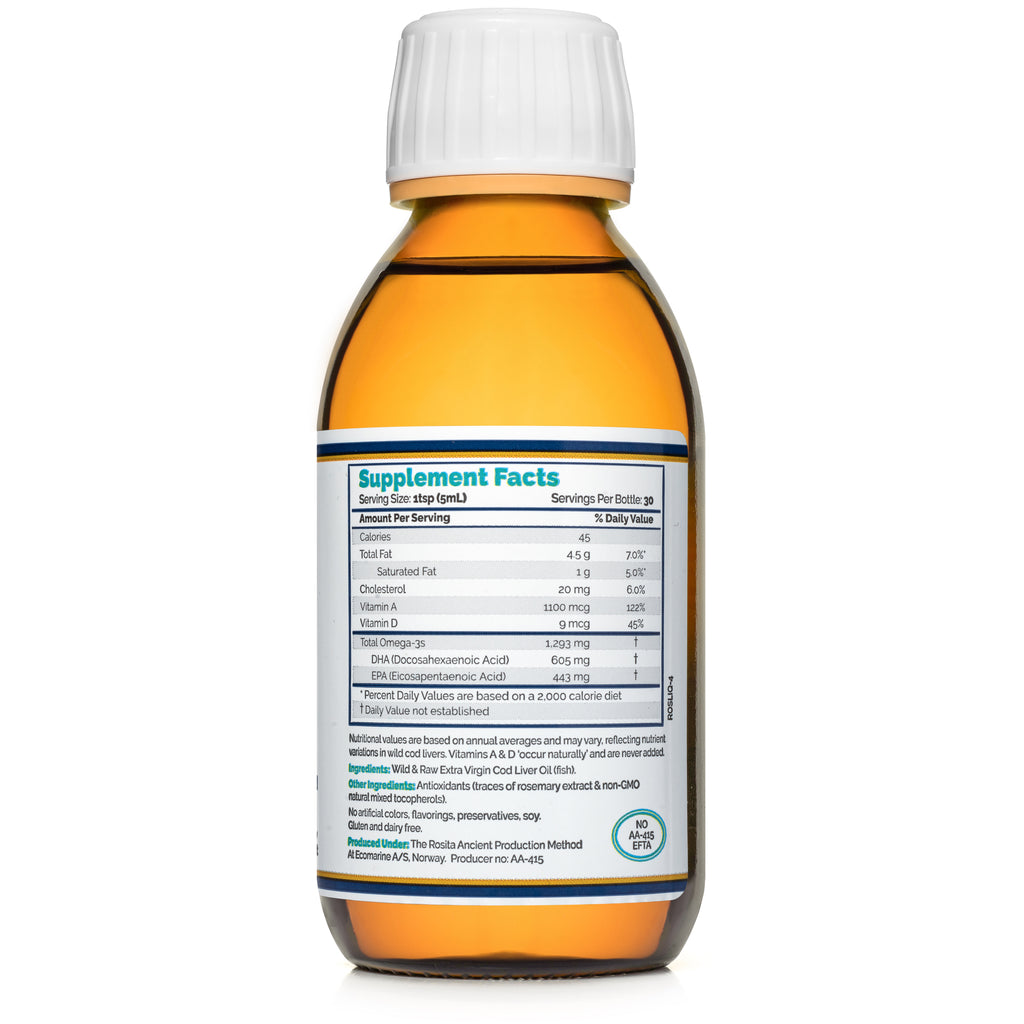 Rosita Real Foods®
Rosita Extra Virgin Cod Liver Oil
150 ml.
---
Buy two or more & save 5%
Pure: Contains 100% naturally occurring nutrients: vitamins A and D, and a full spectrum of omega fatty acids (including EPA and DHA); no synthetic vitamins.
Sustainable: Authentic cod are caught hook and line on our own fishing boats in Norway.
Unprocessed & raw: Oil is quickly and naturally released — without heat, chemicals or mechanics.
Benefits: Supports immunity, vision, reproduction, bone and brain health; may reduce inflammation and promote healthy skin.*
Rosita Extra Virgin Cod Liver Oil is the only fresh, wild-caught and raw cod liver oil in the entire world. Straight from pristine Norwegian seas, it contains naturally occurring vitamins A and D, and a full spectrum of omega fatty acids, including omega-3 EPA and DHA.
If you do the research, you'll find that most commercial cod liver oils are highly processed with heat that wipes out the natural vitamins A and D, and damages the fragile omega-3 fatty acids. To make up for the loss, most cod liver oil producers will add synthetic vitamins.
Yet Rosita family is in control of the entire process from fish to bottle, giving you the most precious and nutritional cod liver oil on the market.
Sustainable: Authentic cod (gadus morhua) are sustainably caught, hook and line on Rosita's own fishing boats off the coast of northern Norway.
Unprocessed: Raw and handcrafted in small batches using a rare, exclusive and generations-old cold-process extraction technique that turns to nature to separate the oil from the livers (with a gentle temperature shift). No heat, bleach, solvents, mechanics, winterization or chemicals are used.
Fresh: Fish to fresh oil within hours!
Rich nutrients & no synthetic vitamins: Contains only naturally-occurring vitamin A and vitamin D and a full spectrum of omega-3 fatty acids in the concentration and proportion nature intended:

Gives you 395 IU vitamin D3 per teaspoon and 3,900 IU vitamin A per teaspoon (with some variation batch-by-batch due to naturally occurring seasonal shifts).
Gives you 443 mg EPA and 605 mg DHA per teaspoon, along with a full spectrum of omega fats, including 3 (DHA and EPA), 4, 6, 7, 9 and 11.

Ships safely in all temps: Nitrogen-flushed, oxygen-free glass bottle protects the oil's nutrients and allows for shipping in all temperatures, even without cold packs.
Safe: Each batch is 3rd-party tested in a microbiological laboratory and certified to meet strict European regulations for potency and purity (including heavy metals testing). You can read the results here.
Natural antioxidants: A tiny drop of rosemary herb extract and vitamin E extract from sunflower seeds (that naturally includes mixed tocopherols and is GMO-free) are added to maintain freshness.
Taste: Golden oil tastes like robust, wild-caught fish. Nothing added to mask your oil's all-natural taste.
Absorption benefits of liquid cod liver oil
Because Rosita Extra Virgin Cod Liver Oil is fresh, wild-caught and raw, taking a spoonful of the liquid is akin to eating a piece of nutrient-rich, fresh fish. This means your body will recognize Rosita as real food, rather than a processed supplement.
In addition, the vitamins in your Rosita cod liver oil are fat-soluble, meaning they're stored in the body's fat and used as needed.
Rosita liquid versus softgels
Rosita liquid cod fish oil offers more servings compared to softgels. It's ideal for therapeutic doses and the entire family's needs.
Rosita liquid is also helpful for those who cannot swallow a softgel, like infants, children and those who prefer a smooth dose.
Wild-caught cod liver oil, rosemary, organic vitamin E.
Rosita Extra Virgin Cod Liver Oil contains a naturally rich and rare nutrient profile that lends itself to myriad health benefits:
Vitamin A: It has true vitamin A in retinol form, which means the body can easily absorb and use it (unlike the vitamin A found in plants as beta-carotene). Vitamin A is involved in immune function, vision, reproduction and cellular communication.

Vitamin D: Rosita's vitamin A also works hand-in-hand with its vitamin D, which helps the body absorb calcium to support bone health.*

Omega fatty acids: Rosita's full spectrum of fatty acids (including omega-3 EPA and DHA) are known for reducing inflammation and preserving brain health.*
For more information on Rosita's science-backed health benefits, click here.
Best taken with food, as needed.
Adults: 1/2 to 1 teaspoon daily.
Children and sensitive individuals: 1 to 4 drops daily.
Infants (as approved by doctor): 1 to 3 drops daily. Drops may be administered by spoon or by dropper prior to feeding.
Pregnant and nursing mothers: Do not exceed more than ¼ teaspoon daily.
Low and slow: Rosita is premium, pure and potent. Therefore, it's critically important to start slowly, with a lower dosage than recommended. For example, a very small dose every other day, or even once a week, until you can determine how the supplement affects your body and what dosage feels right for you.
How to take Rosita liquid
Here are some quick tips on "prepping" your pure cod liver oil for the most optimal taste:
Before taking your preferred dose, take it out of the fridge and set it on the counter for two minutes.
Then shake! This allows your oil to be properly distributed (it's a full-spectrum oil, so shaking it makes for a consistent taste).
Some people like to enjoy a slice of orange afterward for a refreshing chaser.
Refrigerate upon receiving. (Please note, Rosita fish oils are nitrogen-flushed to remove oxygen before sealing the bottle, which preserves the oil's freshness in all temperatures).
Once opened, consume within three months (oil may become thick and cloudy when cold).
Unopened bottles can be stored in the freezer for up to three years from the product's production date.
Price & Dosage Calculator
Use our dosage calculator to determine how long your product will last based on your household size.
Customer Reviews
Total 5 star reviews: 878
Total 4 star reviews: 40
Total 3 star reviews: 20
Total 2 star reviews: 10
Total 1 star reviews: 22
95%
would recommend this product
Customer-uploaded media carousel. Press left and right arrows to navigate. Press space or enter to open more details.
Slide 1 selected
Shelley S.

Verified Buyer

Reviewing

Rosita Extra Virgin Cod Liver Oil

Cod liver oil

The purest and the best cod liver oil available!

RU

Rosita USA

Yesterday

We would not be able to grow and develop without feedback like yours, Shelley. We are thrilled you had a great experience with our Cod Liver Oil. It contains 100% naturally occurring nutrients: vitamins A and D and a full spectrum of omega fatty acids ( including EPA and DHA ). Thank you so much for trusting Rosita! Have an amazing day ahead!

Bouncedancer

Verified Reviewer

Reviewing

Rosita Extra Virgin Cod Liver Oil

I do not recommend this product

It might be great, but how would anybody know?

I was going to bookmark this, till I saw that the price was for ONE bottle....

RU

Rosita USA

2 days ago

Hello Bouncedaner, thank you for this honest review and we appreciate your feedback.
Some folks ask why our products cost what they do. Because our fish oils are pure, wild-caught and unprocessed, they cost more. In addition, we craft our fish oils and other supplements in small batches for freshness (rather than mass-produced) and with the most premium, natural ingredients possible, which also comes at a higher cost. We want to assure you that we do all we can to keep our prices manageable, and to make pure, real food supplements an accessible part of your wellness routine. Our partners have raised the prices several times in the past and we covered them as best we can. We hope you decide to give Rosita a try and experience it for yourself! Take care!

Reviewing

Rosita Extra Virgin Cod Liver Oil

Amazing

Great results. Your skin will be smooth and shiny. Joints feel better

RU

Rosita USA

2 days ago

Thank you for the 5-star rating review. We are so happy to hear that our Cod Liver Oil helped with your skin health and bone health. It also supports the Immune system, provides energy, helps the body absorb calcium, helps with brain health and reduce inflammation. Your positive feedback serves as motivation for us to keep raising the bar. Thank you for choosing Rosita. Have a great day!

Reviewing

Rosita Extra Virgin Cod Liver Oil

Cod liver oil

Have only used it a few times but I'm a true believer in the benefits it will give me down the road.

RU

Rosita USA

2 days ago

Dear Paul, we truly appreciate your wonderful review of our Cod Liver Oil. It's a great source of motivation for us to know that our customers believe in our products and its benefit. Thank you for sharing. Have a wonderful day!

Reviewing

Rosita Extra Virgin Cod Liver Oil

Tastes changing for the Better 🙃

Can't believe it, l've actually swished it in my mouth a few times!!! Think I am crossing over! Oh my…

(This is a good thing) 🙃

RU

Rosita USA

5 days ago

Wow! Thank you for this amazing review. We're glad to hear you had a great experience with our Cod Liver Oil. We appreciate your feedback. Have an awesome day!
Reviews Loaded
Reviews Added